Your Home Sold In 10 Days At A Price Acceptable To You, Or I'll Pay You $10,000 Guaranteed!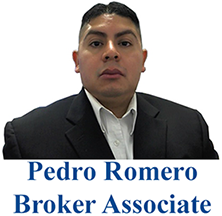 While many agents will promise to sell your home, the reality of the real estate market is that this simply doesn't always happen. Even if the home does eventually sell, the homeowner, many times, ends up with a selling price for less than what they may be led to believe.
Well, Pedro Romero sets himself apart from most agents by being accountable to you. In other words, he doesn't just promise to sell your home, he guarantee's it. His Sold In 10 Days or He'll Pay You $10,000 Guarantee is as simple as this: He guarantees to sell your home within 10 days or he will pay you $10,000 cash when it sells.
If your home sits on the market for longer than 10 days from the time he lists it, he will continue to market it aggressively but pay you $10,000 cash upon its sale.
As you can see, he puts his money where his mouth is. Instead of making you empty promises, he gives you a written guarantee of performance and if he doesn't live up to this agreement, he will pay you $10,000 cash.
In fact there are 4 Big Reasons you should call Pedro Romero to sell your home now.
1. Top dollar: Pedro Romero sells homes for 103.5% of the asking price where as the average area agent sells for 101.1% of the asking price.
2. Fast sale: The average agent sells a home in 35 days, Pedro sells a home in 10 days.
3. Least Amount of Hassles: Pedro and his team will get your home sold, every I dotted & T crossed with the least inconvenience to you.
4. He has the buyers: Right now Pedro has over 3,100 Buyers in his database from all over the bay area, your home may already be sold.
To discuss the sale of your home call Pedro today at 408-482-5064. There's no obligation to list your home when you call.
Or if you aren't ready to speak to Pedro just yet, you can get a free special report that details this exclusive guarantee by simply filling out the form on this page.
Claim your free report by filing out the form below

We value your privacy and would never spam you